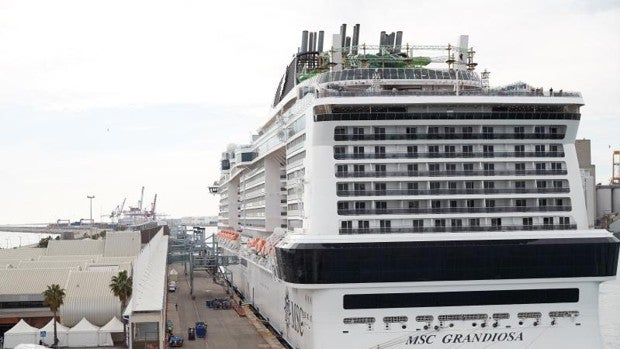 A cruise ship arrives in Barcelona with a Covid outbreak that forced positives to disembark on other stopovers
Barcelona
Updated:
Keep

The Port of Barcelona has received this Saturday morning a cruise ship in which it has detected a Covid outbreak. The ship, the MSC Grandiosa, was on a route through the Mediterranean and forced some of its passengers to disembark a few days ago in French and Italian ports because they were positive or close contacts. Dozens of passengers are confined in hotels for this reason and denounce that they have been forgotten by the company.
The case came to light a couple of days ago in Catalonia, when a Catalan couple celebrating their honeymoon on the ship was one of those affected and explained their story on TV3. Esther and David regret that the company has not provided them with medical attention or the necessary information and they denounce that they are now being told that They will not bear the costs so they can go home. "I knew the risk I was taking on a trip in the middle of a pandemic, but I think we have rights and they should have treated us as we deserve," she said in statements to the Catalan public channel.
In Spain, the ship, which has a capacity for about 5,700 passengers, made a stop earlier in Palma, where this Friday it disembarked at 15 more positives between passenger and crew, according to data provided by the Government Delegation in the Balearic Islands. None of them required hospital care, since all the cases were asymptomatic or mild. In this case, the local infected (4 passengers) were referred to their homes to continue with the isolation, while the remaining 11, of the crew, were transferred to a hotel to continue with the quarantine.
The company, MSC, has defended in a statement that the contagion affects a «Limited number» of travelers, but it has not specified how many, and that the control and prevention protocols against Covid have been strictly complied with, something that has allowed cases to have been identified and isolated.
Reference-www.abc.es