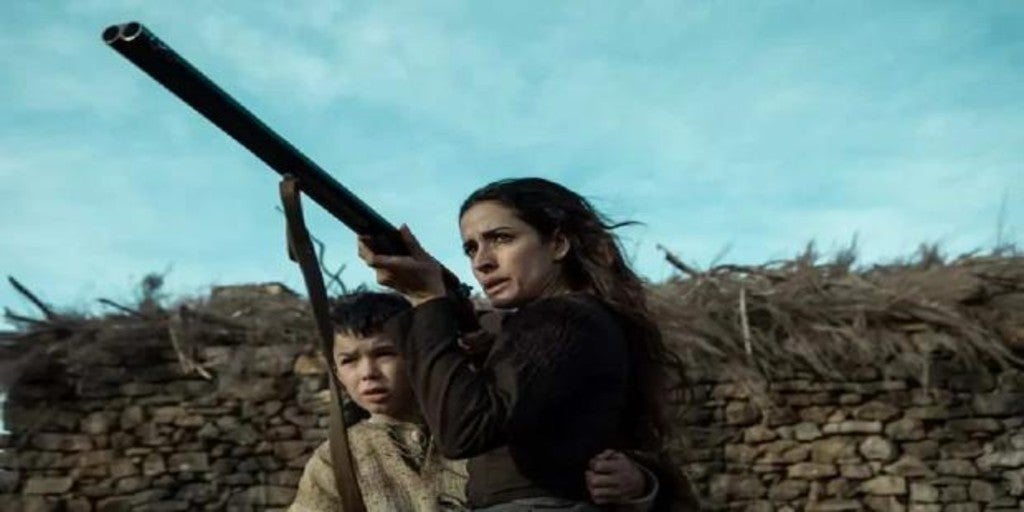 David Casademunt: «The cinema is my therapy, thanks to it I have not gone crazy»
Sitges
Updated:
Keep

The beast that scares the baby 'The wasteland' David Casademunt has also appeared in dreams. It is what the suggestion has, something that the director looks for in the viewer in this horror western in which a mother and her son (Inma Cuesta and Asier Flores) lock themselves in a cabin in the middle of nowhere after the father's departure (Roberto Álamo). After shooting video clips of Pablo Alborán or Chenoa and a documentary about the group Rumba Tres, Casademunt premieres his first film on Netflix.
What did it mean to present your first film in Sitges?
It's my first film, imagine how nervous I was, freaking out. I, who come from the world of short films, from making video clips, that the video clip industry in Spain is very bad, for me this is science fiction.
We started writing it in 2014 without knowing if it was going to succeed. It is the fifth script that I have tried to build since I graduated from ESCAC in 2006. Five years we have been looking for allies. It is born from 'The beast', which is not a short but rather a scene that helped us to sell the idea.
The film arises from its own nightmares.
As a teenager I lost my father. I lived a year of a difficult illness, and then … the loneliness that you have left. That is a horror movie, there is nothing scarier in life. I have talked about that in my shorts and it was inevitable that in my first film I would also do it. I tell it through a story set in the 19th century, with a cabin in a wasteland, three characters and a monster. The family is infected by the virus of fear. But I was interested in the child's gaze, the fear that the bubble of the perfect childhood would burst.
Can cinema be therapeutic?
The cinema is my therapy, thanks to the cinema I have not gone crazy. He has saved my life as a spectator a thousand times, he has educated me, he has taught me to understand life and to be happy. And also as a creator.
What movies have marked you?
I am very cinephile. The best gift my father gave me was a love of movies, especially classic Hollywood movies. As I was a teenager in the 90s, it is the decade that I have mythologized. I prefer 'Jurassic Park', 'Forrest Gump', 'Braveheart', 'Titanic' … 'The wasteland' arises from a reflection: I had to be honest with the movies that I like. That gave me strength in case curves came. Throwing in the towel was at some point an option not to go crazy. But I believed in this movie so much that I knew it would work and that thought kept me going.
Have you had nightmares while filming?
Not being up to par has been my biggest nightmare. As for having a bad dream… I have dreamed of the beast, yes. You're going to think I'm crazy, but to inspire me before I went to sleep I was hooked on several 'hastags' on Instagram related to very disturbing creative images. My girlfriend wanted to kill me. One night I don't know if he was half asleep or what but I saw a shadow move behind a chair. I think it was pure suggestion and suggestion was a command to build this movie. Hopefully the viewer will also be suggestive.
What was it like shooting with Asier Flores?
It is the backbone of the movie. What I loved was its electricity. For example, there is a scene in which you clean a horse and suddenly rest your head on it. Nobody told him that, he did. See if he had energy that got angry because he wanted to do the most dangerous scenes, the ones that a stuntman did. I claim the figure of the coach because there were very adult issues that we had to explain well to him. And then Inma Cuesta, who was patient, was very generous. We were shooting for six weeks, it was very hard, but more for an 11-year-old boy. I'm amazed at how he endured, he lived up to it.
The western scenes of Inma Cuesta with the rifle are powerful, did you give her a clue?
She was not aware that we were doing a western in the script phase, then yes, but she had no reference, it was something very instinctive of her. I did tell her about Charlotte Gainsbourg in 'Antichrist', how she takes the depression she suffers to the extreme, or about 'Black Swan', with that Natalie Portman who has a strong psychological evolution.
Before 'El páramo' he shot a documentary in 2016 about the group Rumba Tres. How does it arise?
I'm really looking forward to your asking me. A colleague from the ESCAC is the son and nephew of the group members. As they were very famous, we made a documentary about glory and oblivion. And we even won various awards.
And also quite a few video clips …
I have shot with Chenoa, Antonio Orozco, Pablo Alborán, Manuel Carrasco, Manu Tenorio, Love of Lesbian… It has been a brutal training ground for the film, not only on a creative level, but also because dealing with the major labels has taught me to know talk and negotiate.
What is the best advice you have ever been given?
It was given to me by an ESCAC professor, Enric Folch: talk about what you have inside you, what is in your heart, in your guts. Everything is told but if you do it from within your vision will be unique.
Reference-www.abc.es