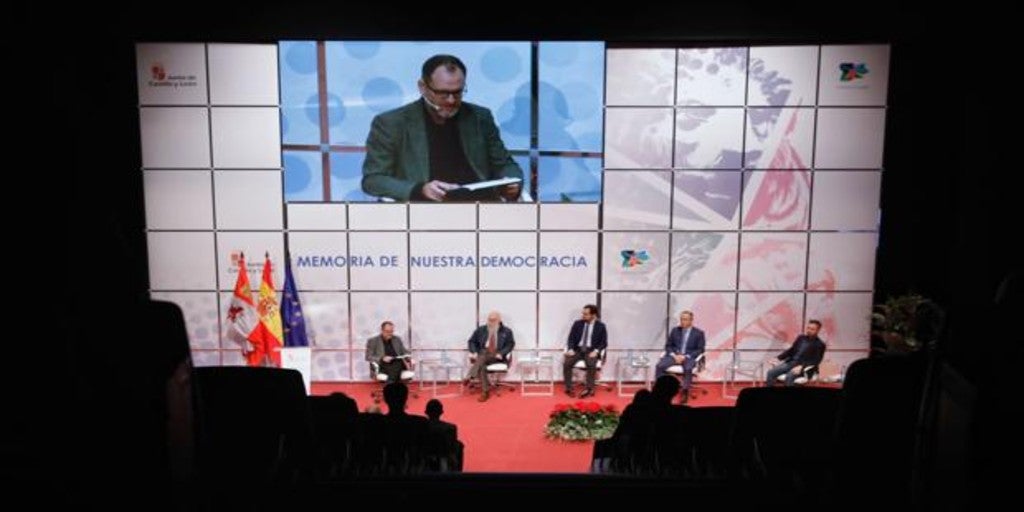 "You live much better now than in 1978"
VALLADOLID
Updated:
Keep

"All of us present here are more than forty", joked ABC graphic humorist Jose María Nieto yesterday at the beginning of the round table 'Spain on the couch: crisis of the 40s?' in which the national deputies in Congress intervened Agustín Zamarrón, from the Socialist Group; Eduardo Carazo (Popular Group); Guillermo Díaz Cs), and Pablo Sáez (Vox). All this in a conference organized by the Junta de Castilla y León, at the Miguel Delibes Cultural Center of Valladolid, whose purpose was to bring together different political profiles that reflect on the past, present and future of the Spanish Constitution of 1978.
"I assume the meaning of the couch as a place of government and Spain as that lady who lies there through its institutions," began the veteran Mazarrón to underline that they have to do their work "without any crisis" and without "no loop melancholic".
For him, they do it and "Spain is fine, better than in 1978", both from those who govern and from those who make the opposition.
The popular Carazo agreed with the socialist and recalled that those born in democracy "forget" that "the natural thing was that the previous constitutions were being thrown all the time in the face" and that the one of 78 was unanimously supported. However, from Ciudadanos they do not believe that this broad social consensus will be repeated today. "It has been said that the amnesty law was a mistake. The left is not amused and I think it is because they do not know anything about anything, "Guillermo Díaz intervened to criticize that relativism and" liquid politics "are running" at ease "in Congress. "We are waiting to satisfy small groups of the Spanish population who want to break the coexistence model," he continued.
Vox, for his part, opined that "an in-depth reform is necessary if there is unanimity, as there was after Franco's death." Thus, Pablo Sáez, pointed out that the nationalists "are taking advantage of good intentions to convey their message." "For many years they have challenged the Constitution and that has shown that, no matter how much it is said, Spaniards are not equal before the law," he criticized to ensure that his group has transferred 27 unconstitutional appeals and that their commitment is "firm" . "I would have loved to see the PSOE in the photo of Colón," he added. Thus, between dimes and diretes, those present, despite some differences, agreed on one thing: in Spain people live "better than before." "The country we have now is better than the one in 1978. One of the strengths of the democratic system is that it is imperfect, but it accepts it," Carazo concluded. It only remains to walk forward.
Reference-www.abc.es