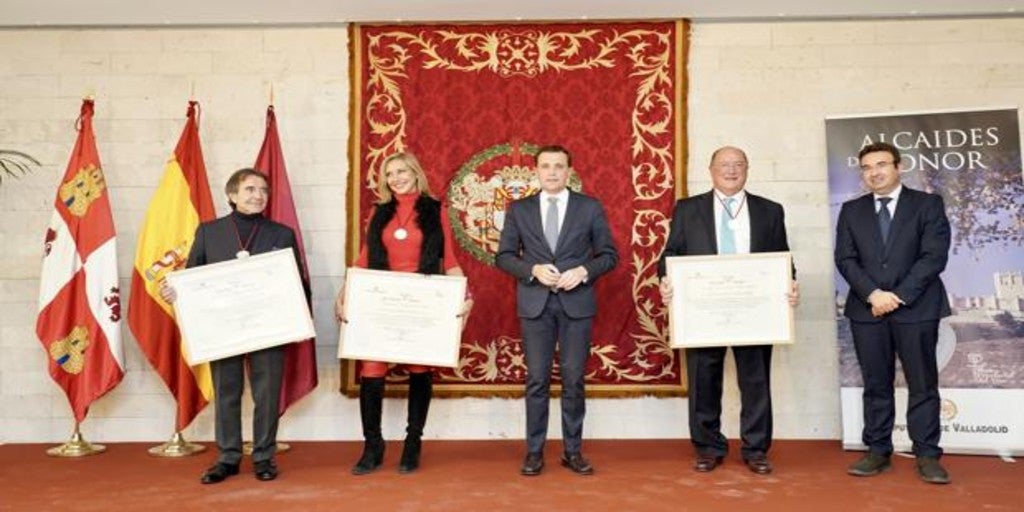 Carlos Moro, Marta Robles and Enrique Cornejo, new Honorary Wardens of the Provincial Wine Museum
VALLADOLID
Updated:
Keep

The president of the Valladolid Provincial Council, Conrado Íscar, presided at the Provincial Wine Museum, located in the Castle of Peñafiel, the act of appointment and delivery of accrediting diplomas as Wardens of Honor 2021 of the MPV to the winemaker Carlos Moro, to the journalist and writer Marta Robles and the theater entrepreneur Enrique Cornejo.
In addition to the mayor of Peñafiel, Roberto Díez, representatives of other institutions, as well as the regulatory councils of the province's Denominations of Origin and winemakers, have also attended the award ceremony.
After the awarding of the awards, the president of the Provincial Council, Conrado Íscar, recalled that last year these awards could not be delivered, which are recovered to "continue enjoying life and its little pleasures, such as enjoying a good wine, of a good book or a good play ».
"And about that, our new wardens know more than anyone," he transmitted.
Íscar thanked them for accepting the appointment, which commits them "to become ambassadors of wine tourism in the province of Valladolid", and explained that the institution "bet before anyone else, 22 years ago now, to develop this Provincial Wine Museum with the The essential objective of serving as a catalyst for tourism in the province with the wine culture as the spearhead of this proposal, the decision was a success, "informs Ical.
Lastly, he praised the figure of the three winners who, like wine, "seek in your deepest roots the sap with which to feed each new project, each new novel, each new montage, each new vintage." «All this while each of you continue trying to contribute something new to each person who approaches your products, your books, your theaters, each wine, always looking for something different, but that maintains the essence of your career. And that is possible thanks to the passion and dedication that you put into each new project, each new book, each new performance. The same passion and the same dedication that is in every glass of wine », informs Ical.
Honor wine rack
After the award ceremony, the three new Honorary Wardens of the Provincial Wine Museum placed their respective commemorative bottles in the MPV's Wine Rack of Honor, where they will occupy a prominent place until the new Wardens are proclaimed in 2020.
Reference-www.abc.es