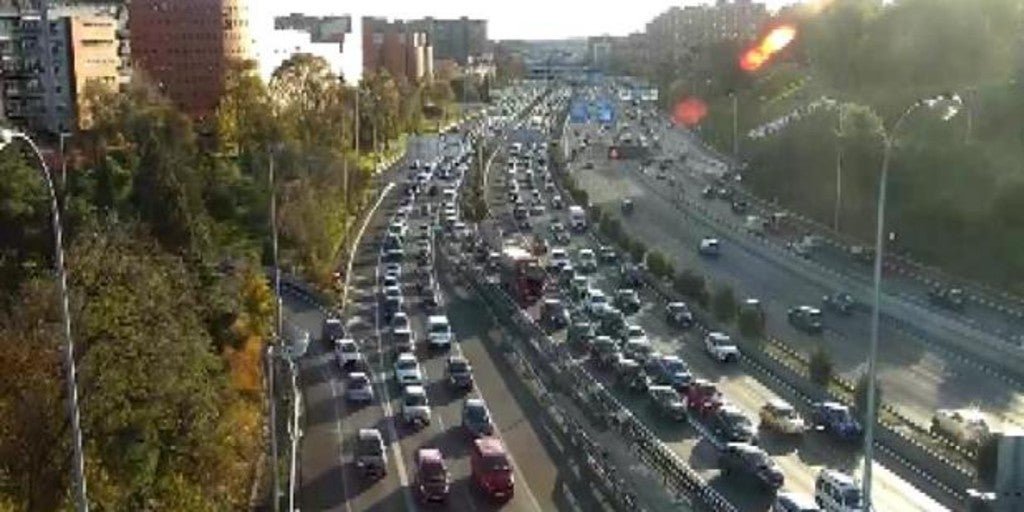 Traffic: Retentions at all Madrid exits at the beginning of the Constitution Bridge
Madrid
Updated:
Keep

All the main roads out of Madrid registered retentions at the beginning of the special device of the General direction of traffic (DGT) on the occasion of the Constitution and Immaculate Bridge, in which 8.07 million trips are expected until midnight next Wednesday. The DGT radio bulletin at 3:00 pm, picked up by Servimedia, indicated that at the time there was "slow traffic at practically all Madrid exits", especially on the A-1 at the height of the Jarama Circuit, the A-3 in Rivas-Vaciamadrid and Villarejo de Salvanés, and the A-5 in Navalcarnero.
There were also circulatory difficulties on the M-45 in Vallecas towards the A-4, the M-40 in Pozuelo de Alarcón towards the A-6 and at the exit of Madrid on the A-2 at the height of Alcala de Henares, in this case due to a traffic accident.
In Barcelona there were more than 10 kilometers of retention on the AP-7 at the height of Barberá del Vallés towards Girona and there was also slow traffic in Valencia (the A-3 in Loriguilla and the V-21 in Alboraya towards the Valencian capital) , Murcia (the A-7 in Alcantarilla towards Almería) and Seville (the A-49 in Castilleja de la Cuesta).
Human and technical resources
The DGT expects 8.07 million trips on Spanish roads during this bridge, that is, 1.05% compared to the real data for 2019. It is the Constitution and Immaculate bridge that could register more cars on the road from the last five years. Traffic once again establishes a special operation for this bridge after giving up starting it last year due to the lower number of long trips by road due to the fact that most of the autonomous communities had decreed the perimeter closure of their territories by virtue of a state alarm to curb the coronavirus pandemic.
To cover travel during this bridge, which will affect the roads destined for the mountain areas for winter sports and other tourist areas for rest and second residence, the DGT will implement regulatory measures, management and vigilance that guarantee mobility and fluidity on the roads and, at the same time, ensure their road safety.
For this, the DGT has human resources such as agents of the Civil Guard Traffic Group, civil servants of the Traffic Management Centers, helicopter patrols and personnel in charge of maintaining equipment and installing road measures. It also has technical means, such as 780 fixed radars (92 of them stretch) and 545 speed control mobiles, as well as 13 helicopters, 39 drones, 216 cameras and 15 camouflaged vans to control the use of mobile phones and seat belts. .
Reference-www.abc.es