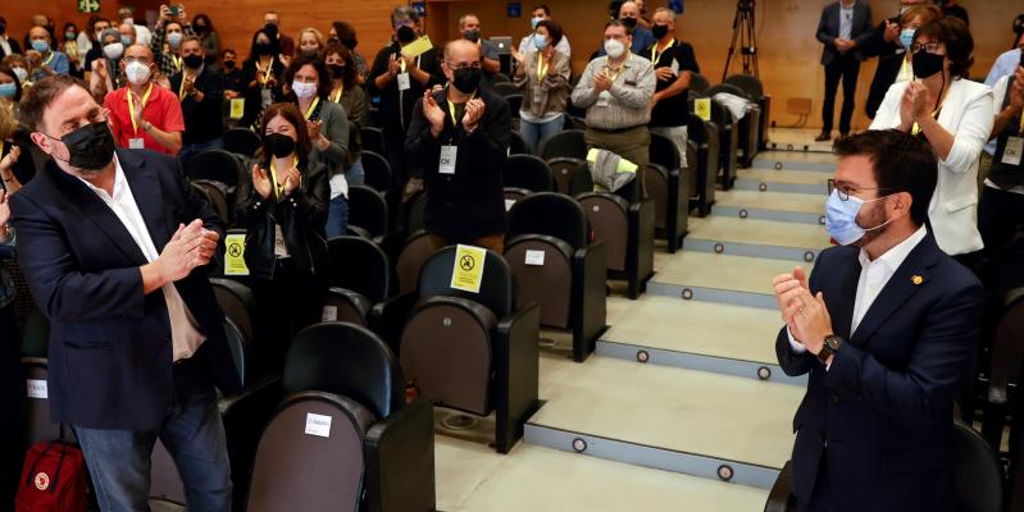 Junqueras asks the Constitutional Court to provisionally lift his disqualification from public office
Barcelona
Updated:
Keep

Oriol Junqueras has asked the Constitutional Court (TC) to suspend him the disqualification penalty that the Supreme Court imposed on him in the 'procés' sentence of October 14, 2019 and that the ERC leader has appealed and admitted for processing by the TC since July 21, 2020. After the pardon of the Government of Spain for the prison sentence (Junqueras was sentenced to 13 years in prison , of which only a little more than three and a half passed), if the TC accepts the Junqueras request could stand for election and hold public office.
In a letter dated this Thursday and released by ERC today, Junqueras' lawyers ask the TC to annul the absolute disqualification issued by the Supreme Court, until the appeal is resolved against the 2019 sentence, considering that it is causing "irreparable damage" to his political rights.
In addition, Junqueras is based on his demand in the resolution of the vice president of the General Court of the European Union (TGUE) of November 26, which recalls that Carles Puigdemont cannot be detained until it is resolved the question raised by the Supreme Court.
«The referred criminal procedure is suspended until the Court decides on the preliminary ruling, specifying that the suspension derives from the very posing of the question without the need for the issuance of any special resolution by the Court that raised it ", recalls Junqueras' lawyer, in his brief presented to the TC and consulted by ABC, on the decision of the TGUE regarding Puigdemont and the former counselors who escaped from the Spanish Justice.
Along these lines, the ERC leader's lawyer points out that Junqueras "has been serving a disqualification sentence that prevents him from participating in the political life of which he was a main actor, having been relieved of their elected positions both as a deputy of the Parliament of Catalonia and of the Congress of Deputies and of the European Parliament «. A disqualification that asks the TC to be lifted to prevent »irreparable damage« to their rights.
Reference-www.abc.es