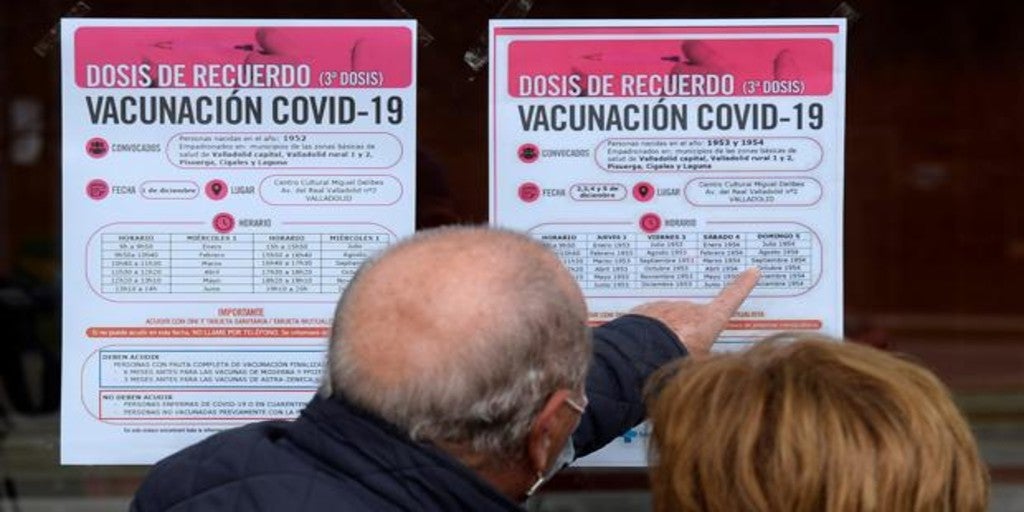 Booster doses of seven Covid vaccines are effective and safe
Madrid
Updated:
Keep

All Covid-19 vaccines have beneficial effects when given as a third booster dose but, according to a study published in
«The Lancet», There are important variations in antibody and cellular immune responses between vaccines.
This randomized phase 2 trial of Covid-19 booster vaccines concludes that seven of them boost immunity when given 10 to 12 weeks after the full Oxford-AstraZeneca regimen, and six boost immunity after two Pfizer-BioNTech dosage.
The
COV-BOOST looked at the safety, immune response (immunogenicity), and side effects (reactogenicity) of seven vaccines when used as booster doses: Astra Zeneca, Pfizer, Novavax, Janssen, Moderna, Valneva y Curevac.
Conducted in the United Kingdom, the study involved 2,878 adults over 30 years of age It also concludes that the seven vaccines pose no safety concerns, and that symptoms such as fatigue, headache, and injection site pain are more common in younger people.
El COV-BOOST evaluated the immune response, rather than effectiveness in protecting against infection by SARS-CoV-2 or severe Covid, and although the two are closely related, the exact relationship is not clear.
The substantial variation in immune responses elicited by different boosters (as identified in this study), along with the availability of vaccines in the country and what level of boost is sufficient for national disease control goals will help inform policy decisions. on the reinforcements.
Vaccination with Astra Zeneca has been implemented in more than 180 countries, while the Pfizer has been applied in more than 145 countries. The full regimen of both has shown 79% protection, for Astra Zeneca, and 90% for Pfizer, against hospitalization and death after six months in many studies.
This has prompted the consideration of new booster doses to protect the most vulnerable, reduce pressure on health services, and mitigate economic impacts.
But until now there was little data on the comparative safety of Covid-19 vaccines and the immune responses they stimulate when given as a third dose.
'The side effect data shows that all seven vaccines are safe as a third dose, with acceptable levels of inflammatory side effects such as injection site pain, muscle pain and fatigue.
While all increased peak protein immunogenicity after two doses of AstraZeneca, only AstraZeneca, Pfizer-BioNTech, Moderna, Novavax, Janssen and Curevac did so after two doses of Pfizer-BioNTech ", comments the professor. Saul Faust, trial leader and director of the Research Center
NIHR Clinical Research Center at Southampton University Hospital (United Kingdom).
'It is encouraging to see that a wide range of vaccines, using different technologies, show benefits such as a third dose for AstraZeneca or Pfizer-BioNTech. Generates confidence and flexibility in the development of reinforcement programs»Adds Professor Faust.
Now, he warns that it is important to note that these results are related "only to these vaccines as boosters of the two primary vaccines and with the immune response they generate at 28 days».
In this sense, he comments, a further analysis will generate data three months and one year after people have received their doses of boosters, "which provide information on its impact on long-term protection and immune memory».
Researchers are also studying two of the vaccines in people who received a third subsequent dose after 7-8 months, although results will not be available until the new year.
The primary outcomes of the study were adverse effects seven days after receiving a boost and antibody levels targeting the spike protein on the surface of Covid-19 virus cells, allowing them to enter human cells, after 28 days, compared to controls.
The secondary ones included the response of the purpose T, which play a key role in the immune response to viral infection and appear important in controlling disease severity, to wild-type, alpha, beta, and delta variants. Both antibody-mediated immunity and T-cell response are known to be important in the efficacy of the vaccine.
The research found that the increase in the levels of anti-peak protein antibodies at 28 days varied between vaccines. For example, after the full Astra Zeneca guideline, they ranged from 1.8 times higher to 32.3 times higher depending on the booster shot used. After two doses of Pfizer, the range was 1.3 times to 11.5 times. Significant T cell responses were reported in various combinations.
The authors caution that reinforcement ratios should be interpreted with caution because they are related to the immunogenicity rather than protection against disease, and the relationship between antibody levels at day 28 and long-term protection and immune memory is unknown.
Now the study has several limitations. Due to the pandemic timelines and the need to generate data for reporting, the interval between the second and third doses was shorter in some participants than between their first two doses. Some studies have shown that a longer period of time between the first and second doses can improve immunogenicity, including enhancing antibody responses when starting doses of Pfizer are spaced 12 weeks apart instead of 3 weeks. This could mean that the immunity boost is less than if longer dose intervals had been used.
In addition, the fact of analyzing only people over 30 limited generalizability of the findings to younger age groups, as studies have shown that, in general,
vaccines tend to elicit a stronger immune response in younger people and slightly higher rates of adverse effects.
Other limitations refer to the fact that the majority of the participants were from White race.
Reference-www.abc.es